Delicious lunch ideas with Yvonne Fernando
Updated on
PORK AND CORIANDER STEW
Ingredients:
600g pork fillet cut into 2 cm cubes
2 tbs. flour.
1 large onion sliced.
1 ½ cubs chicken stock.
1 tsp. sugar
4 tbs. red wine vinegar.
1 tbs. coriander powder
1 tsp. salt
1 tsp. Black pepper
3 tsp. oil
1 potatoes cut into cubes
1 carrot cut into cubes.
Method:
Wash and dry the pork fillet, cubes, combine the pork with pepper, salt, coriander and vinegar; leave to marinade in the refrigerator for two hours.
Then combine the flour, pork and toss. Heat oil in a frying pan and cook pork for 2-3 minutes. Add onions and fry until golden colour, add sugar, potato, carrot and stock. Cover and cook on low flame for 30 minutes garnish with red bell peppers and coriander leaves.
Serve with cous cous.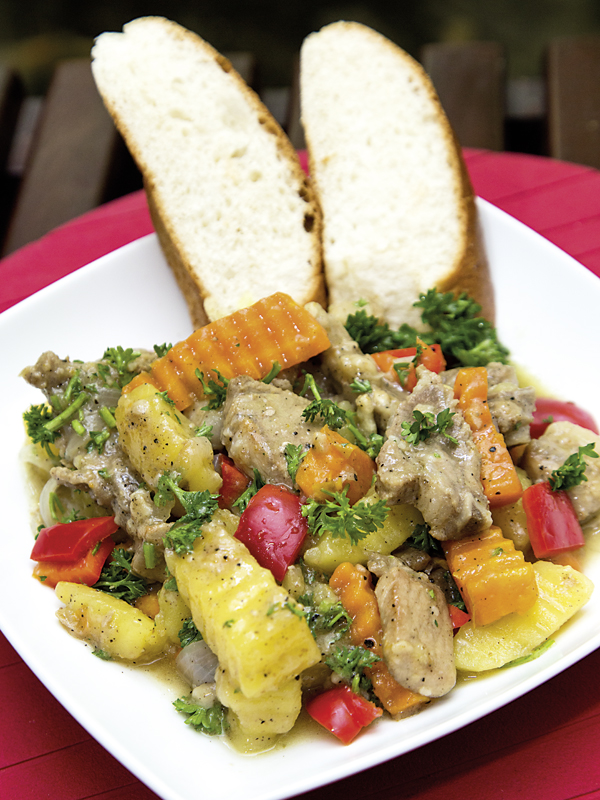 Chicken with Preserved Lemon and Olives 
Ingredients:
1 kg whole chicken
1 onion chopped
3 garlic cloves
1 inch piece ginger ground
1 tsp. cinnamon powder
3 tbs. preserved lemon sliced
2 bay leaves
2 cups chicken stock
1 tsp. pepper
1 tsp. salt
4 tbs. oil
15 green olives
Pinch of saffron threads
Method:
Remove the chicken liver and gizzard from the chicken. Wash and dry the chicken. Marinade with salt, papper and preserve lemon and set aside for two hours.
Heat oil in a heavy bottom pan, add the marinaded chicken and brown on all sides. Take off the pan and place in a deep baking dish. Into the remaining oil add garlic, onion, ginger, bay leaves, saffron, cinnamon and the stock.
Add chicken liver and gizzard chopped, boil for 5-6 minutes and mash the liver with a fork. Pour the sauce over the chicken, cover with foil, bake in a pre- heated oven 1800C for 45 minutes.
Serve with cous cous.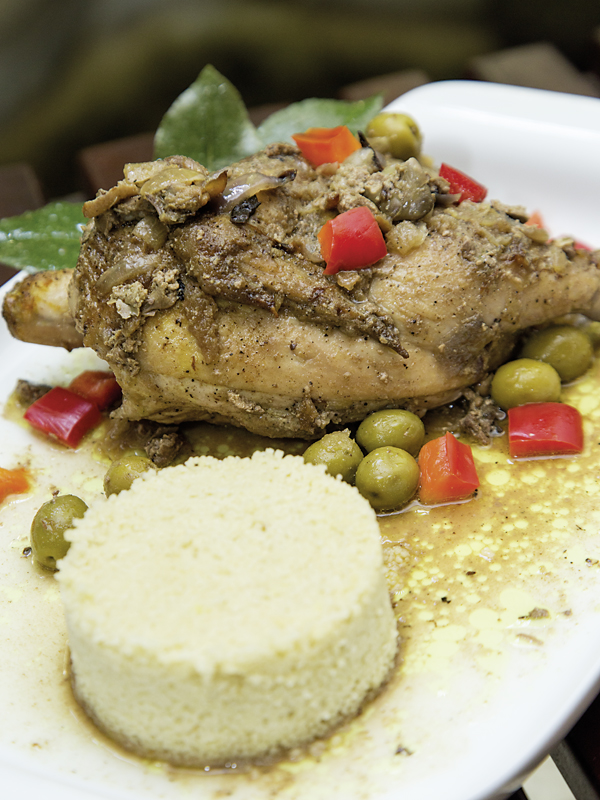 Photographs by Nirmala Dhananjaya