Versatile Entrepreneur Sarita Rajandran
Updated on
By

Shehara Rizly
As we celebrate the month dedicated to all the special ladies our inspiring story is focused on a young versatile entrepreneur Sarita Rajandran. She has surely made her mark in the industry of marketing as she has over 16 years of experience and slowly but steadily moved on as an entrepreneur making sure that her family is taken care of first before attending to her career. From a young age, she was always a fashionista who dressed to impress herself and used to try outfits which suited her best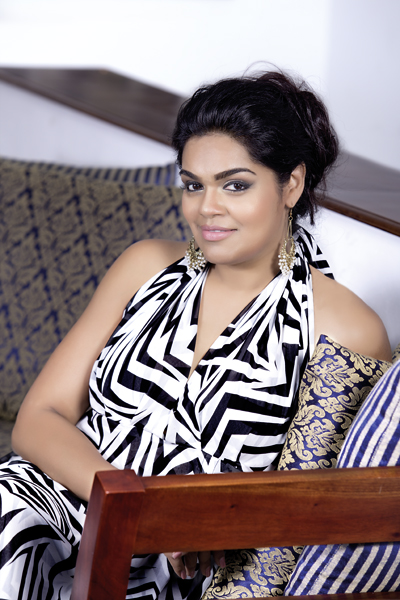 Family – the foundation of life
She hails from a family where creativity and sportsmanship are entwined with her mother, a renowned teacher of Speech and Drama and famous actress Christine Thambimuttu and father Priath Fernando, a successful businessman and an avid golfer. Her younger brother Prasan is more an elder sibling always watching over his sister, better known in the family as the finance guru and now a successful entrepreneur himself.
The wholesome years of school life
She studied at Holy Family Convent Colombo 4 until Grade 7 and then move on to Stafford International where she continued her secondary studies and completed her Advanced Level. Knowing Sarita during school days as a quiet person but very much involved in drama , choir, debating and the arts, she even ventured into sports such as tennis, netball , athletics and golf till her mid teenage years. Her aspiration was to be a lawyer. "When I found out that the London Advanced levels offered law as a subject I was thrilled. However, that dream was shortlived. I was following a course in Marketing at the Sri Lanka Institute of Marketing (SLIM) whilst waiting for my Advanced Level results and I found the subject intriguing and went on to obtain the Post Graduate Diploma offered by SLIM at the time. By then I had decided that Marketing was my forte and I went on to follow lectures for the Chartered Institute of Marketing UK (CIM) Post Graduate Diploma," she said.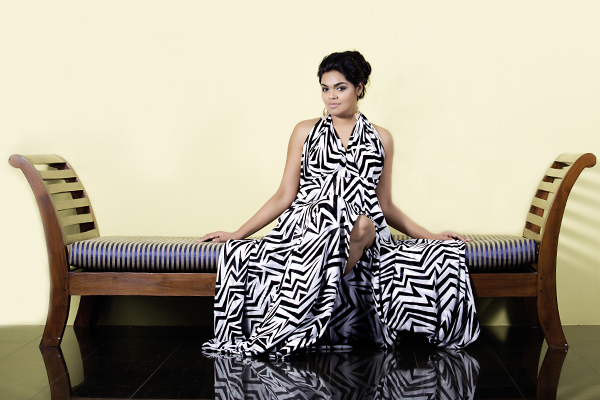 Children come first with motherhood
Motherhood is a gift and embracing it as a full time occupation is definitely an enriching experience. For Sarita first comes her children thereafter follow the others which she sees important in life. She shares, "my children inspire me to be all that I am and more whenever possible. But if you were to ask me to name a person or people whose life's work has been inspiring I would say Mother Theresa and Oprah Winfrey. Good intentions, kindness and helping others whenever possible is a virtue that is very hard to come by in this world we live in today and to possess those qualities is indeed a great thing. My son is 14 years old and my daughter 7 years. They are the love and joy in my life, and they both school at Stafford International . Sampras, my son is a typical teenager, interested in cricket, music, spending time with his friends etc. and my daughter Kayla is 7. She knows exactly what she wants and how she's going to get it, unlike her brother who is very easy going, less dramatic and is easily steered in the direction his sister wants to go in."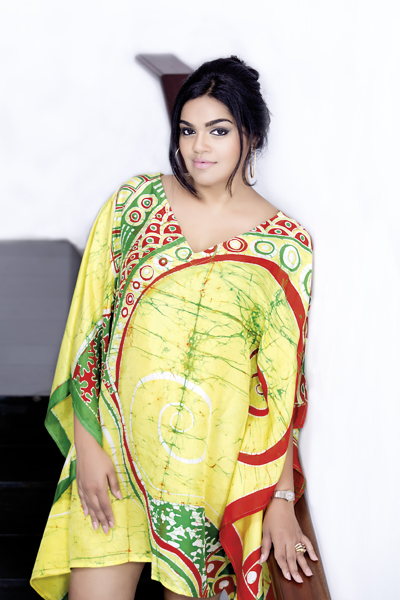 The start of her career
"My career in Marketing started at the Maharaja Organisation where I was an executive for the Radio Station Yes fm. From there I moved on to the family business, United Tractor and Equipment Ltd after I completed my CIM (UK). It was indeed rather challenging to market earth moving equipment and industrial power generators, however, the training, exposure and experience I obtained through various in-house as well as overseas training programmes was invaluable to me. My main role is that of marketing planning, implementation and controls, even though at that time, I was put in charge of marketing communications and handled the planning and implementation of same. After my children were born, I had to change roles and concentrate more on motherhood than business, so I was granted part-time work at the UTE. However, as the children grew ,I found I needed to give more of my time to them and therefore I gave up working completely in 2010 when my daughter was one year old."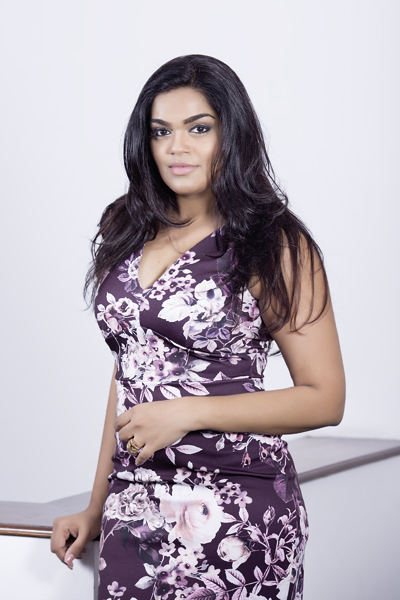 An Entrepreneur with a passion for fashion
Being an entrepreneur has many benefits as she shares them, "I am an entrepreneur and enjoy running my own small business very much. It gives me the flexibility to still do what I need to for my children whilst keeping my grey cells intact and facing up to challenges in the business world. In 2011, a dear friend of mine who is a jewellery designer was discussing new ways of promoting her jewellery, that is the first time I considered getting into the fashion industry when we launched VROU….. Essentially embellished clothing using semi precious gem stones… Most of the pieces were adorned with beautiful necklaces and belts that accessorized any outfit. It is after this exercise that I identified the niche for Rachel Raj and was fortunate enough to meet my buyer at the inception. I launched Rachel Raj in Sri Lanka last December after having successfully operated the business by supplying to one buyer who purchased each collection since 2013. I felt that there is indeed a niche market for 'free size' clothes in Sri Lanka. She would purchase the clothes and sell it as stock lots in the Maldives and the Middle East. After successfully operating in that manner, and when my daughter spends more time of the day in school, I decided to launch Rachel Raj in Sri Lanka. I operate as a boutique within a boutique concept at Radisi on 27th Lane Colpetty, online through www.takas.lk and at the Fortress Resort and Spa Koggala for now. I also have private distributors for Rachel Raj in Los Angeles and London."


Her Typical Weekday
"My typical weekday starts at 5 am where I take 20 minutes for myself; Just to be alone with my coffee and plan my day. Then I get school snacks and breakfast ready for the children , take them to school and get as much work as I can possibly get done between the time I drop them off and before 1 pm when I have to pick up my daughter from school. Afternoons are spent supervising homework and so on. I cook dinner most days of the week so that's what I do early evening and by the time I'm done with that and see that the children are in bed the day is finished . I love to cook and try out new recipes so you could say cooking is one of my hobbies. I collect cookery books and now have over a hundred books that I have acquired over the years. Going to the theatre, travelling to new places are also things I do in my spare time. Buying shoes is also a hobby, lol I think most women will be able to relate to that!"


Favourite Destinations
"Venice, Rome and Florence for the food, fashion and cultural monuments. Lisbon, Estoril and Evora , again for food and cultural heritage. Vienna for the museums and wonderful concerts. There are many parts of our beautiful island that I love to visit too. Galle, Pasikuda and Nuwara Eliya – just to mention a few! Singapore is always a favourite for shopping , great food and entertainment."
Her admirable designers
"I have lots of favourites! Jai by Jaishree, Buddhi Batiks, Yoland, Salt, Rachel Raj to name a few. International favourites are Roberto Cavalli, Versace, Max Azria, Herve Leger , Gucci, DVF, Custo Barcelona and Ritu Kumar. My favourite high street brands are ZARA, Ted Baker, Marciano by Guess, Desigual, and Karen Millen.


An unforgettable Experience
"Having the pleasure of meeting Andre Agassi and Stefi Graff a few years ago on a flight was an experience of a lifetime and one I shall not forget."


Her Priorities
"Right now, my focus is on the children and my new business. My son sits for his O Levels next May so my priority right now is that."
Being a woman, especially a single mum is a tough call, especially when you need to juggle many things in one go. This month, as women let us all appreciate one another and see how we can either inspire another woman or help another woman in distress.
We at wish Sarita all the very best in her future endeavours !  
Photographs by

Nirmala Dhananjaya  
Hair and make-up by

Nuwan wijethunge