Siyatha Miss Sri Lanka for Miss World 2016
Updated on

Siyatha Miss Sri Lanka for Miss World 2016 was officially launched on 5th April 2016 at The Kingsbury Hotel.
By Mandulee Mendis
The event is held in association with Siyatha TV, Kiss FM and the Sunday Times. Siyatha Miss Sri Lanka for Miss World 2016 is presented by The Modelshop. The launch was organized by the three directors of the programme Sangeetha Weerarathne, Shereen Kumarathunga and Dhananjaya Bandara.
The official personnel of the event:
Official Choreographer - Senaka de Silva
Official Photographer – Athula Mahawalage
Official Print Media – Wijeya Newspapers
Official Electronic Media – Voice of Asia Pvt Ltd
Official Dance Director– Channa Wijewardhana of Channa – Upuli Performing Arts Foundation
Communication Skills and Etiquette Instructor– Kumar de Silva
The welcome speech, was followed by a dance performance by Channa Upuli dancing crew, who welcomed the former Miss Sri Lanka Chulakshi Ranathunga and Thilini Abeysekara.
Sangeetha Weerarthne in her speech stated "We are proud to hold Miss Sri Lanka for the 4th consecutive year. We
believe beauty is not only skin deep, but is also inner beauty. In this venture, we intend to seek this inner beauty in order to use this beauty to help those who are in need. The slogan of the event is 'Beauty with a Purpose'. We are celebrating inner beauty and life."
Senaka de Silva, in his speech said "We celebrate lyrical beauty of Sri Lankan women in personality and inner strength. This gala event produced by Modelshop, is in aid of the kidney patients. In this beauty pageant, we give them a good training, looking into things like body shaping, alignment, grace and elegance."
12-15 finalists will be chosen from all nine provinces and the winner would represent Sri Lanka at the Miss World
Pageant in December. 7 mini pageants would be held before the main pageant. Apart from Miss Sri Lanka, many titles
would be awarded to talented finalists and some of them are Miss Talent, Miss Most Radiant Skin, Miss Congeniality, Miss Best Dance, Miss Body Beautiful, Miss Most Effective On Print Media etc.
Print media partner is not only one publication, but all the publications of Wijeya Newspapers and the reason is to
reach a wider audience so that eligible contestants from Galle to Jaffna would receive the news.
Former Miss Sri Lankas who represented Sri Lanka at Miss World Pageants in 2014 and 2015 shared their
experiences at the event.
Chulakshi
"I was crowned as Miss Sri Lanka in 2014. I took part in Miss Sri Lanka 2013, but couldn't get a chance to
win. But, because of the strong motivation and good training I received, I applied once again in 2014 and won. Becoming the winner of Miss Sri Lanka 2014, was a turning point in my life. I'm glad that I was lucky enough to become the winner of this prestigious beauty pageant. I learnt how to develop personality. What is important
is not just beauty, but beauty with a purpose. Through this pageant, I also got a chance to serve those who are in need in our society. I consider the day I won Miss Sri Lanka Beauty Pageant, the luckiest day of my life."
Thilini
"I became Miss Sri Lanka in 2015. I'm grateful to all those who contributed in giving us an incomparable
training which was quite helpful at Miss World Beauty Pageant. I started my career as a model. But my life turned upside down after I was crowned as Miss Sri Lanka 2015. The fame, the opportunities and the recognition."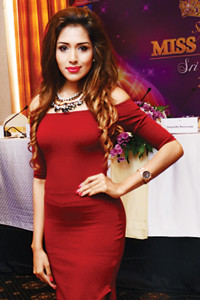 Applications for Miss Sri Lanka would soon be published in the media and all the eligible young ladies are invited to apply and change their lives once and for all! Miss Sri Lanka title is not offered, it's earned through dedication, hard work, commitment and true beauty.
Photographs By jagath dharmakeerthi