Delicious Fish Ideas with Yvonne Fernando
Updated on
Cucumber And White Fish Stir Fry
Ingredients:
400g fish fillet cut into cubes
1 Onion cut into wedges
2 Red chillies thinly sliced
1 small cucumber seeded and sliced
1 tsp. Brown sugar
2 tbs. Fish sauce
4 tbs. Rice wine vinegar
1 tbs. Soy sauce
1 tsp. Cornflour mixed with 4 tbs. water
1 tbs. Sesame oil
1 tbs. Garlic chopped
2 tbs. Oil
Fish Seasoning:
4 tbs. Flour
2 tbs. Cornflour
½ tsp. White Pepper
½ tsp. Salt
¼ tsp. Chinese Five-spice powder
1 Egg white lightly beaten
Oil for deep frying
Method:
Combine flour, cornflour, five-spice powder, pepper and salt together, dip the fish in egg white and roll in season flour, shake off the excess and deep fry fish in hot oil. Heat a wok, add oil, garlic, onions and stir fry for few seconds. Add sesame oil, soy sauce, vinegar, sugar, fish sauce and stir for one minute. Add cornflour and mix well, thicken the sauce, take off the fire. Add fried fish and toss to court. Serve hot with rice or noodles.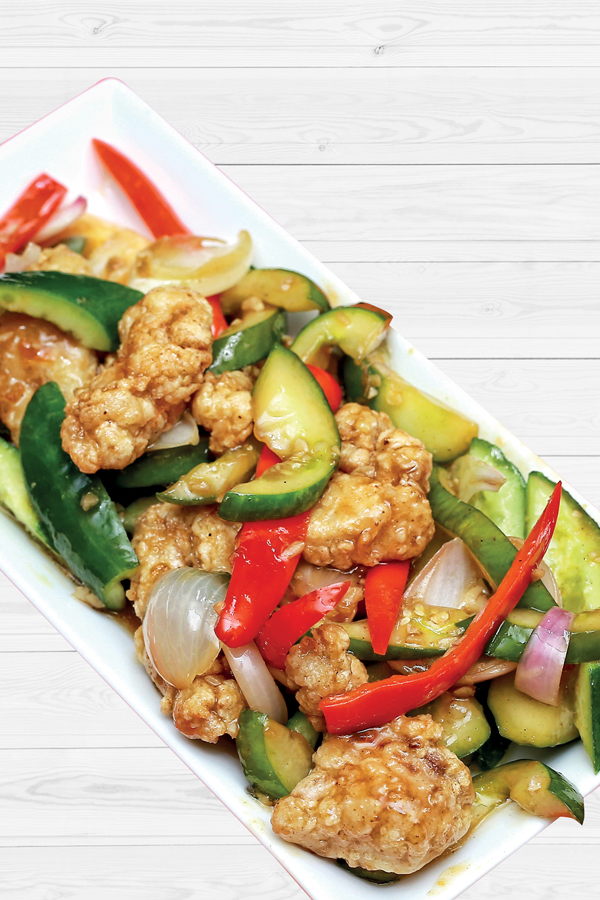 Pan Fried Herb Fish With Lemon Caper Butter
Ingredients:
250g. Sole Fish fillet
300g. Potatoes boiled
6 tbs. Parsley chopped
2 tbs. Fennel chopped
1 Lemon
100g Butter
1 tbs. Garlic chopped
2 tbs. Capers rinsed and drain
½ tsp. White Pepper
½ tsp. Salt
2 tbs. Olive Oil
Fish seasoning:
Wash the fish and drain, season with 1 tsp. lemon zest, 2 tbs. Lemon juice, ½ tsp. Salt, ¼ tsp. white pepper and set a side for 15 minutes. Peel potatoes, crushed lightly. Heat a frying pan, melt 50g. butter, add fish fillet and fry gently on both sides for 5 minutes, drain and set a side. Into the same pan, add remaining butter, olive oil, garlic, potatoes, salt, capers and herbs. Cook for one minute, take off the fire, pile the potatoes on a serving plate, arrange the fish fillet on top and spoon the herb sauce, squeeze the lemon juice on top. Serve hot.