Delectable Dessert Ideas with Yvonne Fernando
Updated on
Spice Apple Tarts
Ingredients
400g Green Apples (Peeled and sliced)
75g Sultanas
150g Sugar
150ml Water
½ tsp Mixed Spices
Few Strawberries to decorate
Pastry Ingredients
200g Flour
75g Sugar
50g Almond Meal ( Ground Almonds)
1 egg
125g Butter
Method:-
Boil sugar and water in a heavy pan. Add sliced apples and stew for 5-6 minutes take off the fire and cool. Add mixed spices and sultanas. Into the sugar syrup mix 2 teaspoons corn flour ,5 teaspoons water, and cook for few minutes until thick. Then pour into the apple mix. In a bowl mix sugar, almond meal and flour and rub into the butter. Add egg and mix and make a dough.
Wrap the dough in a plastic food wrap and refrigerate for 15 minutes. Roll out the dough between two sheets of oil paper until 5 mm thick, use a round cutter, cut the pastry grease and line muffin trays with the pastry. Preheat the oven to 200Oc for 10 minutes, fill the muffin trays with dry rice or beans and bake for 8 minutes. Take off the oven and remove the beans and bake for a further 5 minutes. Fill the cases with the mixed apple, reduce the heat to 180Oc and bake for 15 minutes until golden. Before serving slice strawberries and decorate.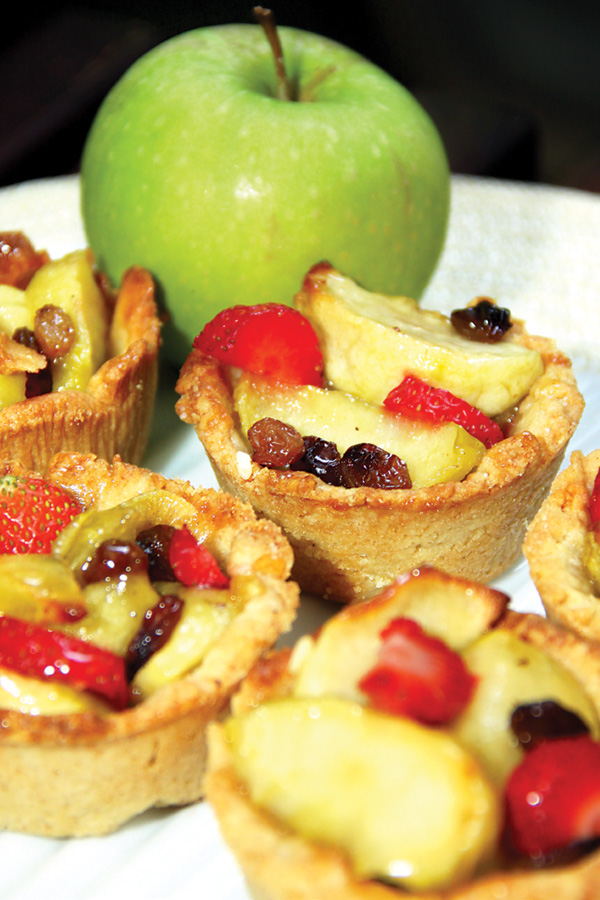 Queen of Pudding with Strawberries
Ingredients:-
2 Cups Fresh Breadcrumbs
150g Sugar
1tsp. Lemon Rind
2 Cups Milk
3 Egg yolks
3 Egg whites
250g Strawberries
3 tbs. Strawberry Jam
6 Ramekins or tea cups
Method:-
Pre-heat oven to 1800C Grease Ramekins or tea cups and place on a baking tray. Heat milk, 75g. Sugar and lemon rind, take off the fire, beat egg yolks and mix well. Place breadcrumbs in a bowl, 50g sugar, 100g. Strawberries (chopped) and pour the warm egg mixture. Mix well. Spoon the mixture into the prepared Ramekins or cups and bake for 25 minutes, until just set.
In a bowl beat egg whites with 100g. Sugar and make a meringue. Warm the strawberry jam over low flame for 2-3 minutes. Pour the jam mixture over the baked pudding and spoon the meringue over the jam, using a spatula. Bake for 5-10 minutes until light golden colour. Top with strawberry sauce. Serve hot.