Quick Treats by Yvonne Fernando
Updated on
Tuna And Onion Focaccia
Dough Ingredients:
250g Flour
½tsp Salt
1½tsp Instant yeast
2tsp Sugar
3tbs Olive oil
160ml Water
Topping:
100g Onions sliced
½ Red pepper thinly sliced
½ Green pepper thinly sliced
100g Fetta Cheese Crumbled
5tbs Basil leaves chopped
100g Tuna Fish crumbled
200g Caned Tomatoes
1tsp Corn flour
1tsp Origano
1tsp Sugar
½tsp Paprika
1tsp Salt
2 Cloves Garlic crushed
Method:
Combine all dough ingredients in a bowl except water. Mix together gradually adding water and make a soft dough. Set a side for 30 minutes. In a heavy bottom pan, heat 2 tbs. olive oil, fry garlic, add sugar, salt and tomatoes. Mix well. Add paprika, mix corn flour with 3 tbs., water and add into tomatoes, then thicken and make a sauce. Set a side. In a pan heat 8 tbs. olive oil, add onions and saute. Add red and green peppers. Add pinch of salt and one tsp. oregano. Turn dough into a floured surface, then roll the dough and place over lightly grease rectangular tray 30 x 20 cm. Spread the tomato sauce over the dough, then the onion mixture over and top with crumbled tuna, and fetta cheese, sprinkle basil over.Bake in a pre heated oven 180oC for 20-25 minutes,  sprinkle basil leaves over and serve.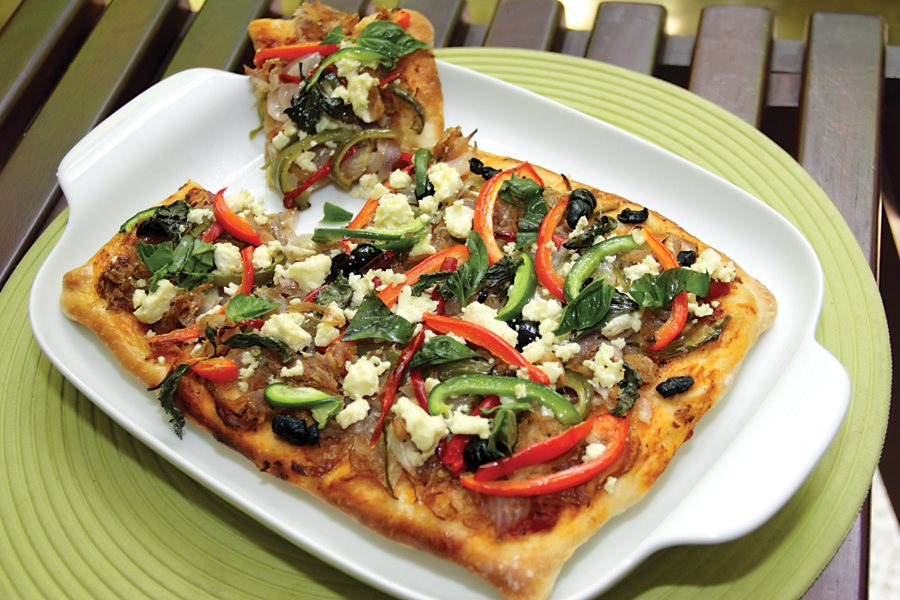 Savoury Bread Slices
Ingredients:
01 French bread cut into angle
slices
150g Ham (chopped)
100g Cherry tomatoes
3 Eggs
125ml Fresh cream
125ml Milk
¼tsp Salt
¼tsp Pepper
200g Baked Beans
100g Cheese (grated)
12 Black Olives (sliced)
5tbs Basil leaves (chopped)
2tbs Olive oil
Pinch of Chili powder
Method:
Pre-heat oven to 180oC for 10 minutes Grease a shallow rectangle oven proof dish with olive oil. Place the bread slices. Add a pinch of chilli powder and spread baked beans over the  bread slices. Place eggs in a bowl, add salt, pepper, cream, milk and whisk together. Then scatter the chopped ham over the bread slices and pour the egg mixture over the bread.
Then cut cherry tomatoes and black olives into two and place over the bread, scatter the basil leaves and cheese. Bake for 25-30 minutes and serve hot.
Please click on the link below to read full article.,
https://www.magzter.com/LK/Wijeya-Newspapers-Ltd./Lanka-Woman/Women's-Interest/