BATTLE WITH COVID – 19 – Staying Positive!
Updated on
Words – Lakmini Wijemanne
It's been a difficult few weeks for all of us, staying away from the daily activities we were so used to doing. Covid 19, most commonly known as the Corona Virus has managed to keep us indoors, stopping us from leading a normal life. Yet….
Can we not complain about the situation and try to see the many silver linings in having to stay at home? If you take the time to look, you can find those silver linings in this black cloud called Coronavirus.
Its time to think that the glass is half full, not half empty! That way lies our salvation !!
• Starting from the early morning alarm that you used to get up to, to get the food ready for kids and the others going to work, it's a time for you to take a bit of extra sleep in the morning…enjoy the luxury of having to sleep longer in the morning…Enjoy it while you have it !
• Take your time to cook something healthy for the family. Even if it is only a couple of things, (since we need to ration our food these days owing to scarcities of many items) you can leisurely cook, enjoying the experience. It would also be a time for you to try new cooking recipes and methods.
• Enjoy the chance to have all three meals with the whole family, sitting at the table. You can have a good conversation about many topics (maybe avoid the current depressing topic?_) and it would be a lovely time of exchanging ideas.
• Take the time to listen to some good music. Give your CDs time to come out!
• Have a family movie night (or even a day time show for that matter!) where everyone could sit together and watch your favorite movie. Or, catch up on the movies that you missed watching, but always wanted to!
• If you have the ingredients, maybe you could try baking something. Even making a dinner dish of a casserole or a pie using the same ingredients you would have used making a normal dinner. Your family would enjoy the difference definitely!
• It's a good time to give some time to your hobby. If you are a sewing enthusiast, you could start stitching something you like. Or, now would be a good time to get started on all those alterations you were planning to do for so long!
• Get everyone involved in cleaning the house! Its free labor, whereas you might have otherwise had to fork out a few thousand rupees earlier!
• Take out your board games. Now is the time to play those age-old family games we used to play not so long ago, before the advent of the phone/tab/computer.
• Give some extra care to your garden. Plant some new plants. If you care to look, the internet is full of new ideas about gardening with limited spaces.
• Read! remember all those books you bought, but didn't have the time to get started on reading? Now is your chance to really start on your reading. Enjoy some quiet time with your favorite music in the background, reading your book….
• Reminisce ….It is lovely to go through old albums and share the stories and moments with your family members.
• Exercise! It's a good item to include in your daily routine since most of our activities are at a standstill! Join with your friends virtually and have a session, while enjoying that togetherness that you enjoyed before.
• If you like drawing, painting, or handwork, it is the perfect time for those. If you have little children at home, you can involve them in doing some handwork doubling it as a learning experience too.
• IF you are a parent and have the kids at home, they could easily get cranky. Look on the internet for novel ways of entertaining them …
• Take time alone to practice some mindfulness/meditation. Get the family to join in a joint chanting of pirith or prayers.
• OR simply, enjoy the time you have with your family. Cuddle them, love them, read stories to your kids, play with them, share giggles with them……
• Take some time for yourself to enjoy too. A lazy bath, a personal pampering session for yourself, give yourself an afternoon nap time, late-night movie session….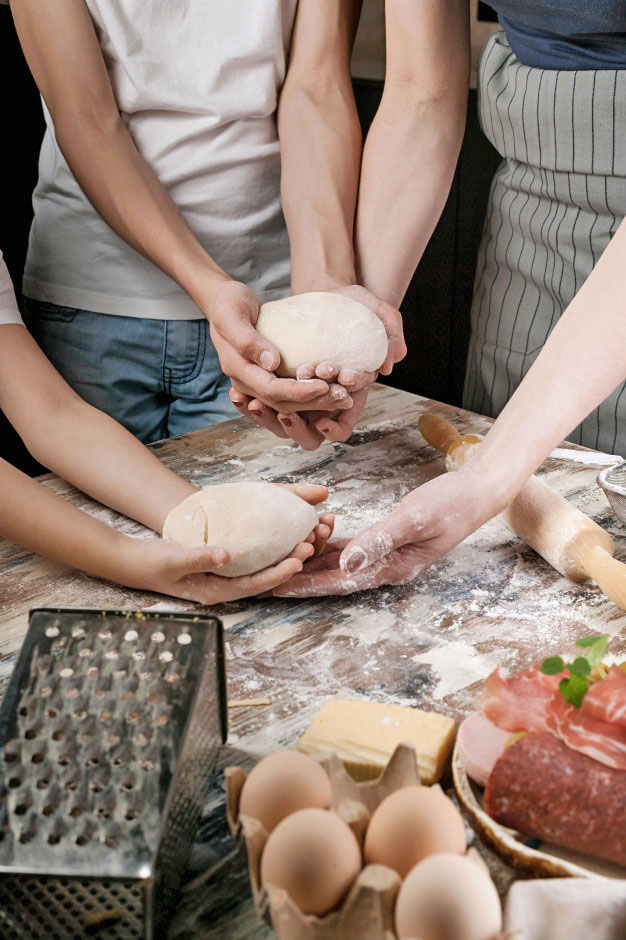 There is much you can do to utilize this difficult time. It's a time given to us to keep us safe from the dreaded Corona! Let's use it positively with our families and help everyone working hard to battle this, by staying indoors and following the guidelines given by the authorities. Let's be mindful and responsible citizens! May you all be safe….